This is an innovative coin flip designed in a wheel form. The effect and result are similar to that of an actual coin flip, though the appearance is that of a spinning wheel.
You can visit the "actual" coin flip simulator website here. Click Here and Click Here.
To spin the wheel, click on any part of the wheel.
You will notice that 50% of the wheel is covered by either Heads or Tails. To increase the excitement and probability, you may add more heads or tail segments. Follow this navigation
In the Table --> "Add Heads Segment" or "Add Tails Segment" or You can add a pair of Head and Tail by clicking on "Add Heads - Tails".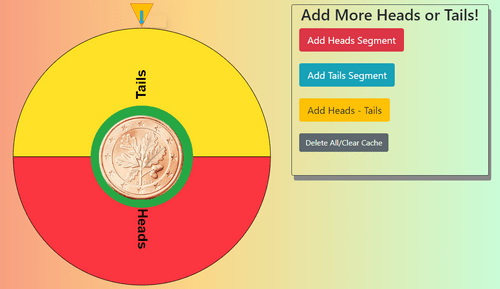 You can delete the "newly" added heads or tail segments also. However, the default segments will not be deleted.
To delete even the default segments, click on "Delete All/Clear Cache". Then click on "Add Heads Segments" or "Add Tails Segment" etc.
Other Interesting wheels
Wheel of Names
Decision Wheel
Yes or No Wheel
Dice Roll Wheel
Random Letter Generator
Magic-8 Wheel
SpinWheelofNames.com is a free site that helps you to decide on some tricky choices, play games, etc with the help of a Spinning Wheel.