Here you can simulate the Dice Rolling in the form of a wheel. It is quite an interesting adaptation.
There are 6 segments of the wheel each with numbers 1,2,3,4,5 and 6.
The result of the rotation of totally random, just like the rolling of a Dice.
In fact, you can do more here. You can add more segments of each number on the wheel, thereby increasing their chances of winning.
You can spin the wheel by clicking on any part of the wheel.
If you want to play the Dice game in the "actual" Dice Simulator, please visit here.Click Here
If you want to add more than 6 numbers, simply enter the number in the wheel here. Click Here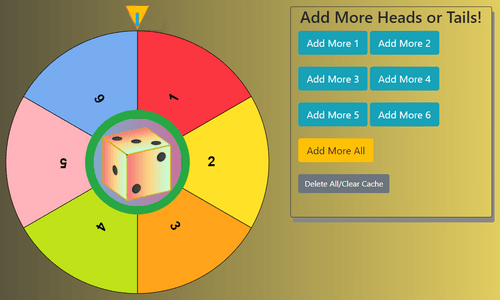 This Dice Roll wheel can be used in schools or for any educational purpose to decide the next speaker, winner, leader, etc.
For a family gathering also, you can use it to play Dice games.
Gambling or any short of betting involving financial traction is not allowed here.
Other Interesting wheels
Wheel of Names
Decision Wheel
Yes or No Wheel
Coin Flip Wheel
Random Letter Generator
Magic-8 Wheel
SpinWheelofNames.com is a free site that helps you to decide on some tricky choices, play games, etc with the help of a Spinning Wheel.